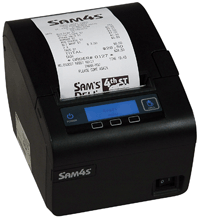 SAM4s SPS-2000 Touch Screen Point of Sale Systems
San Diego, Ca.
Tel: 619-275-41658
Hablamos Español !
Dependable, affordable, easy to use, the SPS-2000 POS system is a great choice for restaurants, bars, fast food, and general retail businesses.
Integrated credit and debit card processing. Branded gift cards are available.
Designed for reliability: no hard drive, EPROM program storage, no single point of failure, quiet, no fan.
Included POS components: rear display, magnetic card reader, easy save-load operation with thumbnail drive or SD card, built-in network capability.
Accountable Business Systems provides custom programming for every business.
Your menu or inventory list will be used to create a unique program for each customer. English and Spanish programming and training is available.
* Store and re-call Drive Through, Phone-In, and Delivery Orders.
* Modifier feature describes and prices items
* Tracks all cashier sales and employee labor
* Tracks item and ingredient inventory usage
* Delivery customer data base
* Keylink menu screens for menu items, condiments, and flavors
* Kitchen Video requisition system
* Multiple system reports available
* Time and Attendance
* Integrated credit/debit card processing
* Remote polling all reports with optional inventory control software
* Bar Code Scanning- Accurate, consistent pricing.
* Add items on the fly, with Not found PLU feature
* Price embedded barcodes for delis, meat, and produce applications
* Case and unit pricing
* Multiple discounts available
* Complete system reports
* Integrated credit and debit card processing
* Optional Polling and Inventory Software
* Poll and consolidate multiple stores
* View sales and purchase history
* Calculate margin/profit, average unit cost, cost on hand
* Maintain PLU database
Restaurant & Bar Features:
* Print Check when table is finished. Reprint check and add items as necessary
* Assign seat numbers for order delivery and separate payments
* Store and recall orders by customer name
* Split checks
* Add next round of drinks with one touch with Repeat function
* Sign employees on and off with magnetic employee cards
* Tip reporting
* Graphical table management with up to five areas: main floor, bar, counter, patio
* Integrated Debit, Credit, and Gift Card payments
* Time and Attendance
* Standard Network Support-UP to 32 terminals in Ethernet style network
Call Today:
(619) 275-4158
Hablamos Español
/